---
Programfabriken

Free programs.
---
MidiAndMusicXmlPlayer
Play your MusicXML files and your MIDI files
The new version plays also the chords in MusicXML
MidiAndMusicXmlPlayer is a program to play Midi- and MusicXML-files easily. There is no installation - just run MidiAndMusicXmlPlayer.exe or MidiAndMusicXmlPlayer.app. Just drop the Midi-file or MusicXML-file in the window or use the open-menu. Big intuitive buttons for starting and stopping playing You may select which instruments/voices that you want to hear by setting checkmarks. You may even transpose the song and change the tempo of the song. To repeat you set a mark (Button with arrow down) and then then button changes to show a circle. Press this to circle (repeat). The latest version V1.42 has support for microtones - but limited to single voices (no chords, not sopran and alto in same part etc.). You may use a pedal to start and pause the playing. (M-Gear pedal + TEControl.se "Jack to USB")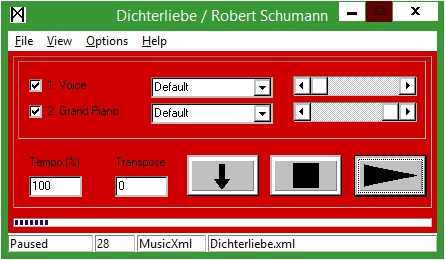 ---
Programs for PC
Midi and MusicXML File Player for PC (MidiAndMusicXmlPlayer.exe: Play MusicXML and MIDI files on PC. No installation, click and run)
The MidiAndMusicXmlPlayer with Chords
Midi and MusicXML File Player for PC with chords(MidiAndMusicXmlPlayer.exe: Play MusicXML and MIDI files on PC. No installation, click and run)
Note: The MidiAndMusicXmlPlayer for MAC may be downloaded from Appstore

MAC Note: Alternative Soundfont (.sf2) can be used if placed in "USER/Library/Audio/Sounds/Banks/MidiAndMusicXmlPlayer/", where USER is your user-directory.

PC Note: Alternative Soundfont can be used by installing another synthesizer (E.g. VirtualMidiSynth)

I like the free soundfont "FluidR3_GM.sf2". Find the one you like.

---

MidiAndMusicXmlPlayer with Chinese menus

---

You can install MidiAndMusicXmlPlayer with Chinese menus with this package:

Midi and MusicXML File Player for PC - 64 bit with Chinese menus and installer (Just click and install)

The PC 64 bit version can use a language file. Place lingua.txt in same directory as MidiAndMusicXmlPlayer.exe. You may edit lingua.txt for you own language

To install MAC package: Get package and write these commands in a terminal window. You find terminal in Programs(A), then Tools

Get package with MidiAndMusicXmlPlayer for MAC (MidiAndMusicXmlPlayer.pkg)

cd downloads

sudo installer -store -pkg MidiAndMusicXmlPlayer.pkg -target /

Makam

Turkish Makam Music Symbolic Data Collection: 2200 tunes are in this collection of MusicXML-files. The tunes are described by: "Karaosmanoğlu, M. K. (2012). A Turkish makam music symbolic database for music information retrieval: SymbTr. Proc. Int. Society for Music Information Retrieval (ISMIR)". You may also find information in the papers of Sertan Şentürk.

The 2200 tunes are converted from the .mu2-format preserving the note pitch and can be played by MidiAndMusicXmlPlayer. The files will however not look right in notation programs - but an option to the converter program can make the note sheet look right in Musescore. Note me if interested, then I can put the converter-program on the home page. (The notation program Mus2 can display and play the .mu2 file) A few tunes are converted with errors - I added these anyway hoping that this will help correcting the original file. A message in the end of the XML-file describes the problem. You can get the tune to sound a lot better by installing another soundfont. There are several free soundfonts for the instruments Ud and Kanun.

Download the whole suite here as one zip-file:

Turkish Makam Files with microtones (SymbTr-MakamFilesWithMicrotonesMusicXml.zip: 2200 MusicXML files)

Or use the converter program to generate the MusicXML-file (Observe the options - write the program name with no argument to see the options):

A program to convert .mu2 files to MusicXML (Command Line Program: "MusikiToMusicXml MyMakamFile.mu2")

Other programs for MAC and PC:
PLM to C Compiler (plmc.exe translates PLM programs to C)
GarageNotes: A program to copy notes from Garageband.
How to use it: Mark and copy midi notes in Garageband version 10.1, start GarageNotes and press the button to paste and save Midi
GarageNotes (Copy midi notes from Garageband 10.1)
Please contact Magnus at magnus.lind@programfabriken.com if you want to use this program.
Midi and MusicXML File Player source files for PC

The program is compiled for Delphi/Dephi XE2/Lazarus

The source files need to be improved - this work will never end

Midi and MusicXML File Player source files for MAC

The program is compiled for Lazarus

The source files need to be improved - this work will never end
Kakuro Solver (kakuro.exe solves a kakuro)
New Sudoku: Copy sudoku.exe from zip-file (Do not execute in zip). Ignore the Windows warning and press: I want to know more - and run

New Sudoku Solver - new design and much faster. Processor: Minimum 64bit, four kernels
Sudoku Solver (sudoku.exe solves a Sudoku)
---
Will you help developing by sending some money? Send to programfabriken with Swedish bank giro account number: 5080-7312
Copyright © 2012 - 2016 Magnus Lind magnus.lind@programfabriken.com
---